The Sanctuary of Belonging: Finding Our Way Home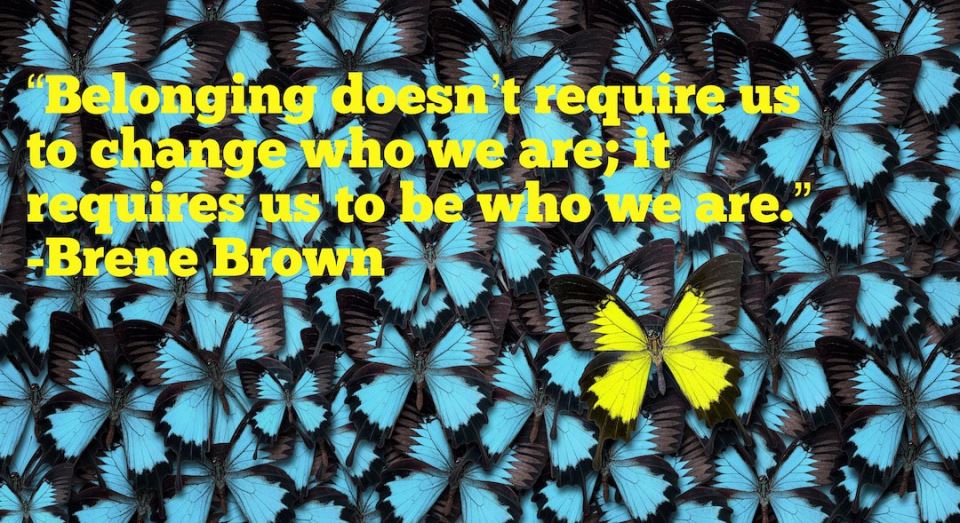 The Sanctuary of Belonging: Finding our Way Home New Class Beginning February 21, 2022!

To this world you belong. To this moment, to this place where you already stand, something greater has ushered you. We are invisibly connected to life through breath, through soul, yet many of us often move through our world with an internal sense of somehow having been abandoned, essentially orphaned from the experience of belonging.

There are many different kinds of belonging: being part of a greater community, a family, and most importantly belonging to ourselves.

While we may not realize it, belonging to ourselves, holds the key to unlock the experience of all of the others. If we do not know how to cultivate a sense of joyous belonging to ourselves we will never completely feel like we belong anywhere. How can we? Our experience of the outer world innately mirrors our inner experience. The greatest irony is that somehow we have been essentially trained to be unconsciously complicit in our own exile.

Whilst I was writing this I used an online thesaurus to find another word other than belonging to use so as to not sound repetitive. The second word on the list was both eye opening and necessary: Exist

Somewhat shocking isn't it? It implies the very thing I am trying to describe. If we exist we belong.

But do we actually experience life this way?

Or perhaps more importantly, how can we experience life this way?

When I was a baby astrologer in my 20's I was willing to play the skeptics game of guess my sign. I would inevitably be incorrect but later we would find out I had accurately guessed their Moon sign. Why? Because in our day to day existence we live from the Moon.

Through the lens of your astrological chart a sense of safety, belonging and connection is symbolized by the Moon. The symbol of our consciousness, the Moon is the repository of all of our experience and the emotional, psychological and spiritual resonance of that experience. The Moon is an echo of where we have been, what we are familiar with, the sum of our being, the totality of our incarnation. The Moon represents all that we are summed up to be in this life. It represents our body, yes, but it also represents what has been called the 'egoic sheath'–both the psychic and physical energy that defines me as a separate being, past, current and future.

The irony is that everyone knows their Sun sign but the Moon is our home both literally and metaphorically. Our inner experience is much more reflected in our Moon. The Moon is our summing of what we are, the Sun indicates how we will move forward.

Our natal chart is a guide, an alchemical compass, to our journey here in this lifetime.
That's why it can be so eerily accurate when working predictively. It's a map, but more holographic than a map. It has tales to tell and can act as a wise guide. When we consciously align with it in an embodied empowered way we experience being on purpose. Our chart can act as such a magical device, it's designed to, but we have to bring our own awareness to it.

Even though we are working with the Moon this is not a traditional astrological class.

This is an embodied experiential workshop that will use process work (meditation, collages, dreamwork - yes, even over zoom) personalized to the participants. Yes, we will actively be working with your personal Moon's and the charts of others in class but there will not be an overview of Moon in all twelve signs. You may learn some astrology but what I am aiming at is being able to consciously live our charts. To be able to use it and its elements as a tool for self discovery to help us find our way home.

As in all of my classes this will be a small group to facilitate an intimate setting. And for the first time in addition to class time I am giving each student a private 30 minutes one on one to more profoundly explore and illuminate the messages of their Moon. We will practice attuning ourselves, through guided meditations, imagery, self care practices, visualizations, myth-making and creative projects. This is a Zoom Workshop so you can participate from anywhere. Participants will receive recordings of all classes, it is not necessary to attend in person ( Although I highly recommend being live for at least some of the classes) as well as a 30 minute private session intimately going over the nuances of your personal Moon.

I invite you to join me on this four week journey to the heart of belonging.

Mondays from 2-4 pm for 4 weeks beginning February 21
$250

For more information or to register please click here or you can text/call me at 213-268-0641.