Supermoon Eclipse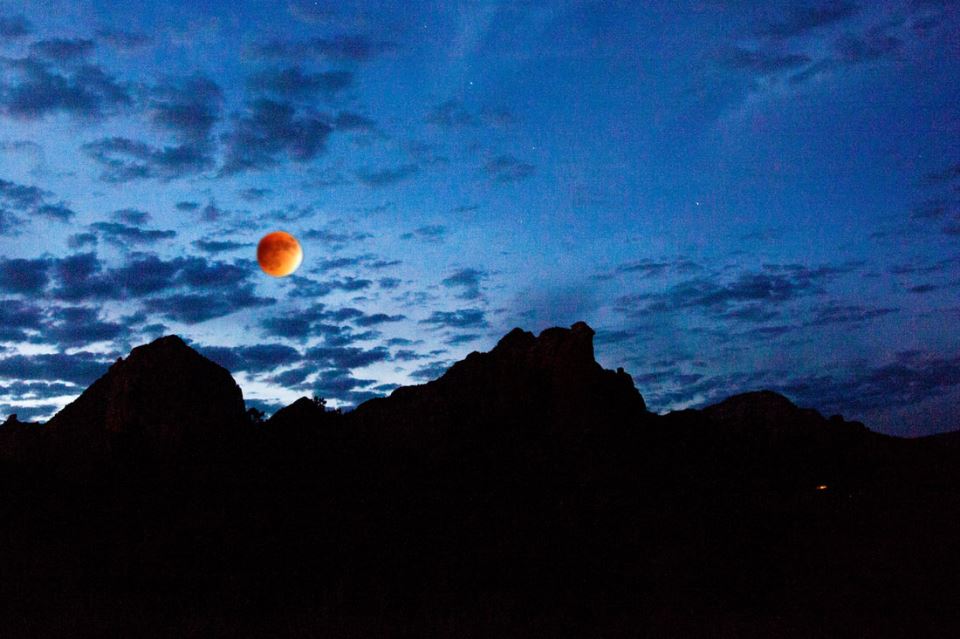 Photo credit Mark Rownd


As I shared last week, Wednesday, May 26th, a Supermoon Eclipse takes place. If you're fortunate to live in the western half of North or South America–or in Australia and Southeast Asia–you can see the sky show live. It will happen in the wee hours of the morning in Sedona, early evening in Australia (after 9:00 pm, depending on your time zone.). It's the only total lunar eclipse of the year (there's a partial one in November).

While Solar eclipses relate to a beginning (New Moon), Lunar eclipses relate to a culmination (Full Moon) or release. On a symbolical level this means something in your life has reached its peak and it is now time to begin to release it.

The eclipse point, when the Moon is at 5 degrees Sagittarius, becomes far more relevant if it falls on or close to a natal point/body (in this example, if you have your Ascendant, Moon, Mercury, or another body within 3-5 degrees of 5 degrees Sagittarius or any thing at this point in Gemini, Virgo or Pisces). Falling in Sagittarius on the one hand the sign of vision, faith and inspiration; on the other fanatical opinions, beliefs, the zealot who has to be right, it may call on you to part ways with old ideas and ways of life that are no longer serving you. In essence from a universal perspective it is time to journey towards a new horizon. Connected to a Full Moon, lunar eclipses bring relationship themes and often the entire life to its high point in the cycle.

Eclipses always follow the cycle of the Nodes of the Moon. In our Natal charts, the Moon is our summing of what we are, the Sun indicates how we will move forward, and the Nodes tell us the road we must follow.

I have studied astrology for 40 years and actively worked with my own chart for most of that time. I have traversed both my inner and and outer territory with it as my guide. Through personal experience, as well as the honor of working with clients and witnessing their process, I have come to revere the natal chart as an alchemical compass, in essence a magical device that can profoundly assist in navigating this pilgrimage we are on together. When I align and listen to what I believe is the soul's wisdom revealed within, things open up. Doors are revealed that were previously invisible, often simply because they were psychologically invisible to me before. My perception changes and my life inevitably follows suit. I witness the same rebirthing with my counseling clients. Roads they didn't think were possible suddenly open. The path clears.

So I share with you two questions to contemplate during this eclipse that I hope will be helpful no matter where you are on your own journey in this moment:

Am I following my own path or the path others have forged for me? What do I hold on to and what do I let go of?

As I shared last week Mercury is retrograde from the 29th through June 22 and this is an excellent time to declutter, particularly within. In your personal life, take time to review the past over the next couple of weeks between now and the solar eclipse on June 10 which heralds rebirth and new beginnings. Look for the nuggets of wisdom in your "failures" and uncover any hidden prejudices towards yourself or others (outer mirrors of our inner world) that have kept you shackled to the past. Prepare the way.

As a gift I have uploaded the recording of the guided meditation that I held in March which leads to you a temple within to speak with your wise inner guide. Please click here to download this file.

Everything in life is always in motion. This state of constant motion known as change excites us when we can plan it or sometimes can feel scary when we don't see it coming or if it is something that we feel we are not quite ready to step into, the death of a relationship, a loved one or a change of career path. Overall this eclipse holds easy positive energy, any changes, expected or unexpected will work for your benefit in the long run no matter where they fall within your chart. As Harriet Tubman said "Every great dream begins with a dreamer. Always remember, you have within you the strength, the patience, and the passion to reach for the stars to change the world."

If you would like to stream the eclipse live Lowell Observatory in Flagstaff, where Pluto was discovered in 1930 is streaming it from 2:30AM PDT- 4:25AM.